High-quality plastics made from old vehicles
Improved recyclability of products, minimum quotas for the use of recycled materials in production and investment in new recycling technology and capacities are all drivers for implementing a circular economy for plastics. These are some of the results of the KUREA study, which was carried out by the company Ramboll in close collaboration with our institute on behalf of the German Environment Agency (UBA)., with the goal of investigating ways to improve the recycling of engineering plastics against the backdrop of increasing legal requirements on material use, using old electronic devices and vehicles as a case study.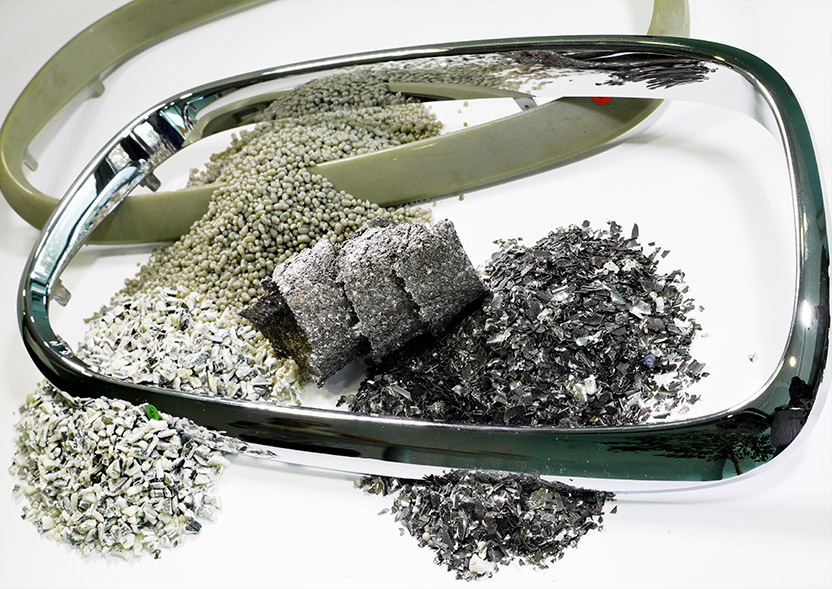 The study identified recycling plastic from old vehicles as an area of particularly high interest and untapped potential. The successful production of high-quality, safe plastic recyclates therefore relies upon measures being taken to remove any impurities in the recycling process. Mechanical recycling processes with appropriate deodorization procedures are therefore suited to processing chunks of plastic that have been removed from old vehicles prior to the shredding process, for example fuel tanks.
Work currently being carried out at Fraunhofer IVV is also opening up new prospects. By combining suitable optical sorting processes with the CreaSolv® process developed by Fraunhofer IVV, high-quality engineering plastics like polyamide (PA) or polycarbonate (PC) can be recovered from shredder waste, which mainly undergoes thermal recycling at present. These materials are scarce in the post-consumer plastic waste market. They are of particular interest to the automotive industry because in the future, minimum quotas regarding the use of recycled materials will also apply to materials made from PA and PC.