Sensory neutral dietary fiber from pea, faba bean, soybean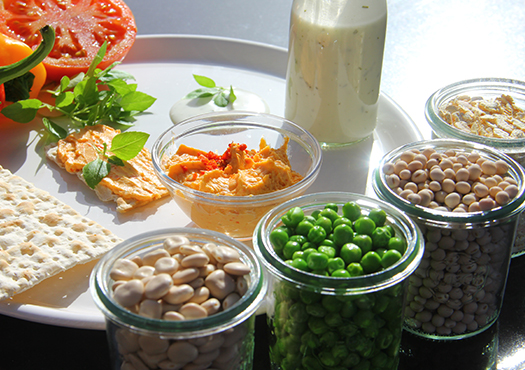 Legumes - raw materials with valuable, biofunctional ingredients
Legumes represent a valuable source of protein, dietary fiber and starch and are thus very suitable for a balanced human diet. While protein and starch components are already used in many ways, fiber-rich components often remain in non-utilized side streams. At the same time, the daily consumption of dietary fiber is significantly below the recommended intake of at least 30 g (DGE) despite health benefits.
Innovative processes for the sustainable utilization of legume residues
During the extraction of protein isolates and concentrates, as well as starch from legumes, peels and extraction residues remain as side streams with high fiber content. Up to now, these have been insufficiently used. However, with valuable ingredients, these process by-products represent a high-value by-product. Through sustainable utilization, innovative and healthy food ingredients such as dietary fiber preparations can be obtained.
However, the utilization of the resulting dietary fiber by-products is currently limited due to a lack of knowledge on stabilization and drying. Furthermore, suitable processes to increase functionality need to be identified in order to raise the potential for application and sales of legume dietary fibers.
Therefore, in the project Legufiber, industrially relevant and cost-effective drying and milling methods of the dietary fiber side streams, and their effect on shelf life, composition and functionality will be investigated. Furthermore, the application of the developed dietary fiber preparations in food and the integration of the developed processes into the industrial process chains shall be evaluated.
Enhancing the sustainable cultivation of legumes and a healthy, high-fiber diet
The project will expand the spectrum of food ingredients made from large-grain legumes (faba bean, soybean, pea) and identify new sales opportunities that will support and increase the farmer's decision to cultivate these crops. The functional, sensory neutral and storage stable dietary fiber supplements obtained in the project can be used in a variety of ways in food products and thus contribute to a healthy diet rich in dietary fiber.
Project term:


2021 to 2024

Project management / funding:

Federal Office for Agriculture and Food (BLE) / Federal Ministry of Food and Agriculture (BMEL)

Project partners:

GoodMills Innovation GmbH
Van Hess GmbH
Taifun-Tofu GmbH