Development of an automatic, self-learning inline CIP cleaning system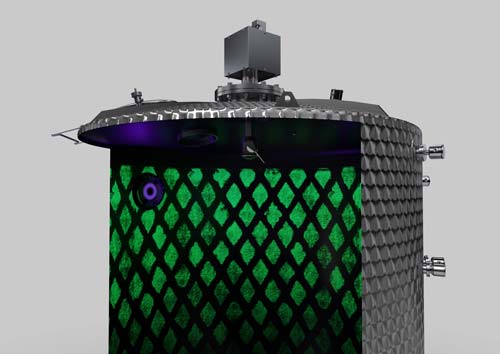 An optical sensor makes the decisions
The Fraunhofer IVV Dresden and FAU-Erlangen are jointly undertaking a research project to develop an innovative and automated
adaptive system for cleaning tanks. An optical contamination sensor is employed here for inline optimization of the cleaning process.
The sensor is positioned in the tank so that key places such as process connection, components/fittings, and areas known for stubborn contamination (such as dried product at filling levels) can be viewed.
The contamination sensor detects the residual contamination in the tank via fluorescence and provides information about the nature of the product contamination, local distribution, degree of dryness, and course of the cleaning to the process control unit.
The cleaning tool is a motor-driven jet cleaner whose motion is optimized by the control unit. For example, its speed can be locally reduced for cleaning stubborn contamination in particular areas.
Resource-efficient and safe
If automated machine and plant cleaning in the food and drinks industry is not effectively monitored, this can result in subsequent fluctuations in­ product quality or unnecessarily high resource usage.
In order to rule out the former, cleaning processes are generally designed for the worst-case scenario. This often means the cleaning programs are excessive and inefficient.
The way forward here is to use an intelligent self-learning cleaning system, consisting of an optical contamination sensor and a motorized jet cleaner. Cleaning is then carried out need-based, because the cleaning system adapts the cleaning parameters to the degree of contamination in the tank.
After the learning phase of the artificial neuronal networks, operators can choose whether they want the tanks cleaning for a specific preset time, for maximum time efficiency, or for maximum resource efficiency.
The cleaning process is continuously logged, leading to enhanced process and product safety.
Further Project Information
Project duration:
2015 to 2018
Project Management
/Project funding:
Arbeitsgemeinschaft industrieller Forschung AiF (via Forschungskreis der Ernährungsindustrie e. V. - FEI)
/Bundesministerium für Wirtschaft und Energie BMWi