Intelligent packaging as an alternative to the best-before and use-by date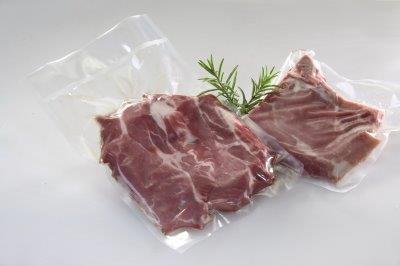 Intelligent packaging systems with freshness indicators should allow the actual quality of stored and packaged food products to be easily determined and should provide an alternative to the presently used best-before and use-by dates. The principle of such packaging is based on interactions between an indicator substance integrated into the packaging and chemical compounds formed in food products during storage. For foods such as meat and fish that readily spoil in the cold chain it is generally microbiological processes that cause quality changes. Depending on the particular microbial degradation processes and metabolic processes, various volatile compounds are produced which can be used as lead substances for freshness monitoring. The ability to determine the actual quality of a packaged food product improves food safety and reduces food wastage at the end of the value-creation chain.

Optical chemosensors for monitoring meat quality
The objective of the FRESH project is to develop an intelligent packaging system with integrated sensor function for indication of the microbiological quality of meat and fish. Color changing sensor materials, which indicate the presence of specific volatile metabolites significantly below the odor detection limit, are being integrated into the food packaging. This is being achieved using printing technologies or film extrusion. The sensor packaging displays a clear color change when the limit value for the volatile compounds is exceeded, so visually informing consumers about the actual quality of the product. The functionality of the intelligent packaging systems is being evaluated in storage tests in parallel with the development work.
The tasks of the Fraunhofer IVV in this collaborative project are the identification of suitable lead substances for determining the state of freshness of meat and fish and the integration of the sensor materials into extrudable polymer systems. Packaging tests with real meat samples are evaluating the intelligent packaging under real conditions.
Project term:

2017 to 2021

Project management
/project funding:

Federal Agency for Agriculture and Nutriition BLE / Federal Ministry of Food and Agriculture BMEL