Microbial contamination during meat processing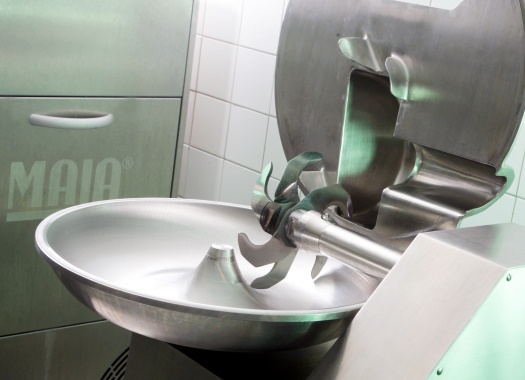 Despite established hygiene and safety standards in the meat processing industry, the industrial slaughter of animals and subsequent meat processing often result in contamination of the surfaces of meat and meat products by pathogenic microorganisms (zoonotic agents) from external or inherent sources. Known examples are Salmonella spp., Campylobacter spp., and Listeria spp. which present potential health risks for both employees and consumers. According to the Robert Koch Institute (RKI), in 2017 some 14,269 cases of salmonellosis and 69,414 cases of zoonotic infection with Campylobacter spp. were reported in Germany, with 46% of all food-related cases being traced back to meat or meat products. Effective hygiene measures are necessary in order to successfully curb the propagation of pathogenic microorganisms along the animal-based food production chain.

Effective germ reduction using the principle of photodynamics
Photodynamic inactivation of bacteria is a very promising approach for the disinfection of surfaces. This procedure involves depositing small amounts of positively charged pigment molecules, so-called photosensitizers, selectively on the negatively charge surfaces of microorganisms and then irradiating them with visible light. The photosensitizers and available oxygen subsequently form reactive oxygen species such as singlet oxygen which oxidatively destroy cell wall components, proteins, and the DNA of the microorganisms. This mode of action enables pathogenic organisms, their multiresistant variants (e.g. MRSA), and bacterial spores to be inactivated rapidly (< 10 s) and efficiently (> 99.99%).
Antimicrobial photodynamics for improved hygiene during meat processing
The collaborative Photodekon project aims to employ antimicrobial photodynamics to improve hygiene during meat processing. The project is being undertaken by the Fraunhofer IVV, Universitätsklinikum Regensburg, TriOptoTec GmbH, and Hubl GmbH and will evaluate the suitability of appropriate photodynamic catalysts in industrial food processing. The Fraunhofer IVV's role is to characterize the effectiveness of the antimicrobial photosensitizers in the laboratory and on a small pilot plant scale. Throughout the project the work of the project partners will be supported by associated project partners (Weber Maschinenbau GmbH, Kaufland Fleischwaren GmbH, Beha Innovation GmbH), namely companies and potential end-users having an interest in this technology. The focus here will be particularly on the machinery and objects that are permanently in contact with the meat.
Key aspects of the project are as follows:
Development of durable, highly resistant antimicrobial coatings for conveyor belts and plant/machine components based on photodynamics.

Development of a process based on photodynamics for the effective cleaning and disinfection of conveyor belts used for meat processing.

Development of antimicrobial additives for cleaning agents used in the meat processing industry based on photodynamics which can be applied for daily cleaning processes and have a temporary effect.



Wider application of photodynamics for hygienic food production
This complex approach enables the most effective process variants to be identified. This involves applying photodynamics to disinfect plant components and other contact surfaces during ongoing processes and also for the antimicrobial coating of surfaces in the operational environment. The acquisition of practical knowledge concerning the antimicrobial mechanisms and the viability of using photodynamic catalysts in the meat processing industry will pave the way for wider future application in food production.
Project term:

2020 to 2022

Project management
/project funding:

Federal Agency for Agriculture and Nutrition BLE/
Federal Ministry of Food and Agriculture BMEL