Conference

/

January 29, 2020
Final conference of the EU research project »Protein2Food«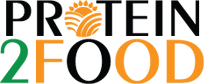 SAVE THE DATE!
The European PROTEIN2FOOD consortium invites to get the final project results.

During the final conference will additionally take place discussions on the highlights and barriers of transitioning to more protein-rich plant-based foods. During the 5-year project period, scientists researched along the entire food value chain to develop innovative, high-quality vegetable foods with a high protein content. The main focus of the research work was the well-being of human health and the environment as well as the promotion of biodiversity.
Find more information about the project here.