Strengthening artisan traditions for the future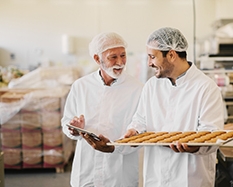 In the WiBe-Back research project, a knowledge management system is being developed that will facilitate demand-oriented and convenient access to digitalized practical knowledge regarding the production of baked goods in small and medium-sized bakeries. The project is helping artisan operations ensure consistent product quality and constant food safety despite high staff turnover rates and the tricky situation facing them regarding the availability of skilled workers. What's more, it aims to provide them with the skills they will need to meet future challenges.
Knowledge sharing — a key resource for business security
Working with volatile raw materials and production conditions is a challenge that requires extensive practical knowledge. If, for example, there is a change to the properties of the supplied raw material (such as the flour) that is to be processed, the staff need to respond to this accordingly and adjust the associated processes and settings. However, this special knowledge of the work processes and how the machines involved are operated is distributed unevenly across the individual employees, is heavily influenced by their level of experience and is rarely documented.
Innovative integration of wiki, ontology, AI and chatbot
The knowledge management system is based on a semantic wiki (BluesSpice MediaWiki). The system is adapted to the specific industry and problem by means of user interfaces (HMIs) with a task-oriented design and a chatbot integrated by our research partner Hallo Welt! that interacts using natural speech. Using these tools, the staff are able to enter targeted, problem-based search queries for the system. The search for a solution is conducted via an AI module that adapts the suggested solutions on a case-specific basis and optimizes them through feedback. An integrated, adaptable ontology enables the stored knowledge content to be systemized and annotated, general industry-specific relationships to be described and new knowledge content for problem-solving to be derived by means of reasoning. The system can be used without users having to make extensive entries in the wiki at the start of the process.
The key to efficient production processes and liberation from the shortage of skilled workers
The targeted documentation and sharing of business-specific specialist knowledge in the bakeries means staff are able to respond appropriately and efficiently to any changes that occur during production. Existing differences in qualifications are balanced out and staff levels of qualification are increased across the board. Most notably, however, the valuable knowledge held by experienced employees can be retained on a permanent basis and systematically shared with others. As a result, the system ensures that the expertise held within the business is safeguarded. The knowledge management system therefore offers a sharp response to the challenges faced by businesses with respect to the transfer of work from one generation to the next, increasing staff turnover rates and the persistent shortage of skilled workers.
If you would like to find out more about the project, please feel free to get in touch!
Project information

| | |
| --- | --- |
| Project term: | 1. Juli 2023 - 30. Juni 2025 |
| Funding code: | KK5047705LB3 |
| Project partners: | Hallo Welt! GmbH, Bäckerei Möbius GmbH & Co. KG |