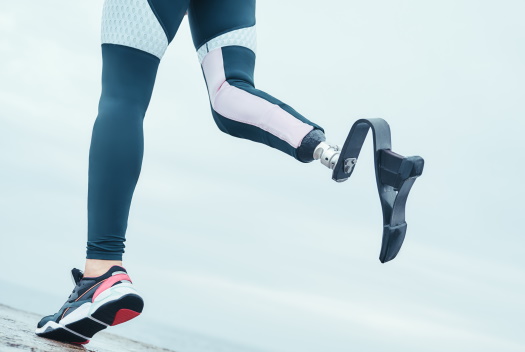 Stress-optimized and adaptable prosthesis shafts
The Fraunhofer IVV is addressing a fundamental shortcoming associated with the manufacture of femoral prostheses. In order to guarantee the safety, functionality, and comfort of these prostheses, they must be custom-manufactured to individual size. At present these prosthesis shafts are manufactured manually and this is time-consuming. Moreover, prosthesis shafts manufactured using traditional processes are not adaptable. This means that if body growth, healing processes, or altered parameters of the person require adaptation of a prosthesis then it is necessary to manufacture a completely new shaft.
Additionally, existing manufacturing methods do not allow the stresses to be simulated in advance in order to ensure prosthesis shafts having optimal geometry.
Utilization of local temperature fields for manufacturing adaptive prosthesis shafts
The objective of the ProFlex project is to develop a deep-drawing process for the manufacture of stress-optimized and adaptable prosthesis shafts. Technology is being developed which combines controlling the free forming using suitable temperature profiles and the attachment of adaptable strengthening elements. This guarantees safety, stability, and adaptability.
In addition, a simulation tool is being developed to calculate the optimal shaft geometry and process parameters. It is envisaged that the simulation tool will be able to be used for optimizing other similar processes. The results will potentially be able to be used as the basis for improving the degree of automation of manufacturing processes.
What can the process be used for?
The project findings will enable prosthesis manufacturers to calculate optimal parameters for the prosthesis shafts and subsequent manufacturing process. In addition to the adaptability of the prostheses, this will reduce materials and costs and will fulfill today's requirements for the sustainability of products and production processes.
The use of the simulation tool also means that there is no need for complex and time-consuming tests. Both the temperature profiling method and the simulation tool can be used for other similar applications.
In particular, the adaptability of the prosthesis shafts enables rapid and favorable responses to any necessary changes and simultaneously guarantees safety and comfort. As well as bringing cost and resource efficiency, the project results will also contribute significantly to improving the care of people with prostheses.
Do you have any questions or would you like further information about this project? Then please get in touch with us!
Project term
1 Oktober 2019 to 30 September 2021
Kooperation partner
Sanitätshaus Jeromin Orthopädie- und Rehatechnik GmbH & Co. KG, Elektro-Wärme-Technik Hippel

Project management
/funding:
Arbeitsgemeinschaft industrieller Forschung AiF